click here to download (1.2MB)
Here's some fun to take to daycare or (another) meeting about your company's merger activity.
A 16-page coloring book!
All the art and subject text was created right here in the JMS Labs. The print at the bottom of the cover is Gorilla Milkshake, a free design font from the good people at
Blambot.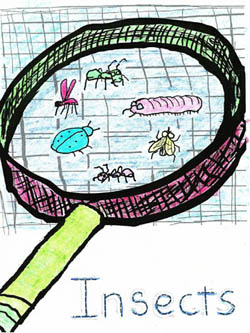 Here's the important legal stuff:

Grace's Coloring Book by Bradley Weber is licensed under a Creative Commons Attribution-Noncommercial-Share Alike 3.0 United States License.
Based on a work at www.juniormadscientist.com.
That means you can:
— Give it to the kids!
— Put it on your Web site!
— Mix it into your own art!
All you need do is give me credit (via the attribution link imbedded in the legal stuff ) and let me know you're using it for non-commercial purposes.
(If you WANT to use it for commercial purposes, drop me a line here and we'll talk.)
Scroll all the way to the top or bottom of this post and click to get. You can print all the pages or just your favorites.
If you have access to a scanner, email some finished artwork and I'll post it.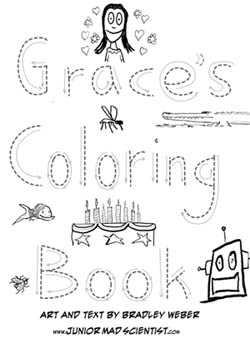 click here to download (1.2MB)
In the planning stage is a JMS Activity Book full of more coloring fun, connect-the-dots, word finds, and so on, with all with your favorite JMS characters: Avenge-O, Monkeys On An Elevator, Mr. Punch, Inter-Galactic Space Patrol, and more.
If the coloring book gets a good response (i.e., lots of downloads and good feedback), the activity book will be next.
Enjoy and tell your friends!