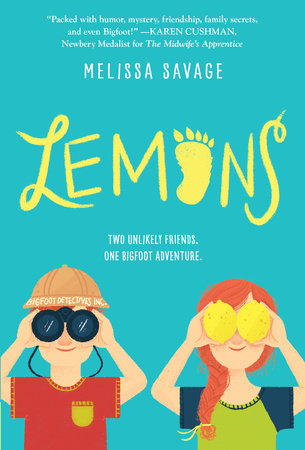 The cover for Melissa Savage's latest book, Lemons.
LEMONS
By Melissa Savage
Yearling, 2017
Age Range:  8 – 12 years
Grades:  3rd through 8th Grade
Readership:  All genders
***Recommended
In Lemons, author Melissa Savage blends the comedy of the fish-out-of-water story and the zaniness of Bigfoot investigation with the real emotions of characters struggling with their individual losses.
It's 1974. The Vietnam War is over; Nixon's quit the White House; and Lemonade Liberty Witt is being sent to live with her only surviving relative: her dead mom's estranged father.
While Lem banks on her 5th grade teacher requesting custody of Lem so she can stay in San Francisco, Lem must deal with all the rage and sadness of losing her mother, losing her place in the world, being under the care of someone she didn't even know existed, and of being sent to a backwoods town that happens to be the Bigfoot Capital of the World.
It's this last item which helps Lem; her grandfather, Charlie; and Tobin, the cryptid-obsessed neighbor boy who's father didn't quite make it home from the war. Though Lem joins Tobin on his Bigfoot hunt because she has nothing better to do, the investigation allows them all to redirect their angers and griefs long enough to begin healing.
Ms. Savage's prose is crisp and well-paced. For a book full of people dealing with personal loss,  Ms. Savage gives everyone's emotions their due without overwhelming the characters, the story, or the reader. The characters consciously chose restraint in situations that—on TV, in movies, or in lesser works—would be amped-up for effect. With any luck, young readers will pick up on this and see it as a better way to handle overwhelming emotions.
Ms. Savage's second book, The Truth About Martians hits shelves in early October.
For your copy of Lemons, and to pre-order The Truth About Martians, visit Anderson's Bookshop or your local independently owned bookstore.
For more information about Melissa Savage, visit her website at https://melissadsavage.com/.