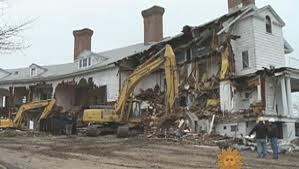 Well, here's a sad bit of news — and further evidence that the greed heads' hard-on for destruction is as strong as ever.
NEW YORK | Tue Apr 19, 2011 3:26pm EDT  —
Mansion linked to "The Great Gatsby" demolished
(Reuters) – Bulldozers have razed a storied mansion where F. Scott Fitzgerald partied and which some say inspired his classic 1925 novel "The Great Gatsby"
The Colonial Revival-style Lands End mansion was built in the early 20th century in Sands Point, New York, overlooking the waters of Long Island Sound.
In the 1920s it became the home of Herbert Bayard Swope, the executive editor of the New York World and an acquaintance of many of the luminaries who came to define the Roaring Twenties, including Fitzgerald. (read more here.)
According to All Things New York, "Sands Point Village in January approved plans to raze the house and divide the site into lots for five custom homes starting at $10 million each."
The site also states, "Hundres of once-grand mansions have been razed in the past 50 years as financial situations change, maintenance costs skyrocket and land value creeps ever upward. Taxes, insurance and maintenance of the 24,000-square-foot house and 13-acre grounds total as much as $4,500 a day."
That's a bit pricey for lawn care, even for a place as great as this.
Consider, though — Lands End property and others like it were once owned by the era's super-rich: oil, steel, fur, real estate, publishing, and shipping magnates who ran their empires from the skyscrapers of New York City Monday through Friday, then cruised to Long Island for the weekend. They built seaside homes as a place to escape to, or somewhere to send their families, during the summer. These were, more or less, vacation homes.
One of the articles (I can't find it now) quotes a Sandy Point village clerk saying something to the effect of, "There's no proof that was the place Fitzgerald got his idea, so just SHUT UP!"
That may be. But there are those of us who want to believe places have meaning: the houses where George Washington (allegedly) slept, the (alleged) manger where Jesus was (allegedly) born, the (alleged) house that (allegedly) inspired Fitzgerald to write the (alleged) Great American Novel.
The point is that these places connect us to the past and, more importantly, the people in our pasts. These places, because of their continuing travel through time, give us perspective, a sense of who we are, some connection to things greater than ourselves, and occasionally, a sense of meaning.
Near my house, cemented in the sidewalk of an early 1960s subdivision is this :
The bronze marker is about 10"x12", lays flat in the sidewalk and is hard to find, even when you know where it is and are looking for it.
How much greater the connection to the past if this were still around: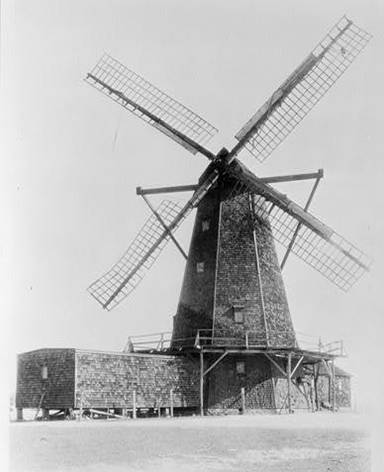 Unfortunately, the old mill was destroyed in a 1958 fire set by "mischievous children." Riiiiiiight. According to the Illinois Windmills Website, "The ruins of the Heidemann windmill were cleared, and new homes were built in its place."
Sounds familiar.
Up and down the West Cost, there are places palaces similar in size and cost to Lands End, built  mostly near Silicon Valley and Seattle — home to the latest batch of ultra-wealthy. But how many of them have the style, class and grandeur of the house at Lands End? From what I've seen, not many —- though it's been a while since I've been to any of the really big homes or parties, the last being at Larry Ellison's place in 1994. I wound up in the koi pond showing Johnathan Letham and Diane Lane how I planned to win the upcoming Argungu Fishing Festival. Had I known Larry's fish came with a $29,000 price tag, I wouldn't have jammed my fist so far down it's throat.
Blackballed for killing a prized goldfish. You don't rebound from that one in a hurry, let me tell you. Next time I'll do something sensible like bulldoze Hearst Castle or the Governor's Mansion and build high security compounds.