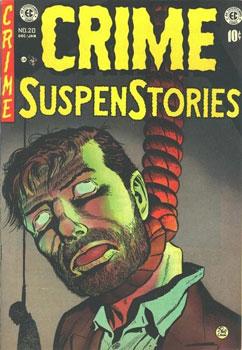 Time to hang this one up . . . Oh, wait.
At JMS Labs, we are very concerned with closure. Usually, it's body bags and bio-hazard containers, but, hey, closure is closure.
To wit —
The last bit of follow-up to my April 9th post rebutting Varney's ignore-ist approach to Frederick Wertham:
— Varney's initial post
— My rebuttal and his comments
— His re-direct
— His inquiry and my comment (#5 and #6, respectively)
Though I've drafted a careful reply, I'm letting that last thought (#6) stand as my final word.
— Over at The New Republic, Douglas Wolk replies to David Hajdu's comments regrading Wertham, comics, etc.
— Little did I know that while wrapping up my comments on the whole Wertham blow-up, comics maestro Eddie Campbell (Fate Of The Artist, The Amazing Remarkable Monsieur Leotard) was doing the same, though he's done a way better job of following and expounding on the whole pointless mess. Read his posts from April 21st, 22nd, 25th, and 28th. Campbell's informed analysis is well worth your time.
"God save us from some of these half-arsed historians," indeed.
YOU GO NOW!