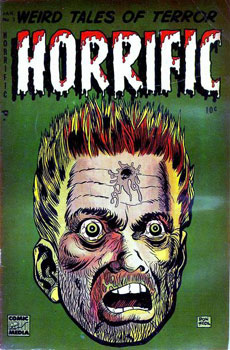 "Man, I need this like I need another . . . . Oh, wait."
Below are a few items relevant to my April 9th post regarding the trouble with ignoring/forgetting the historicity of Frederick Wertham's crusade against comics.:
—- Varney's reply to my rebuttal. (I'm still considering a response.)
—- The New Republic's ultra-cool slide show of '50s horror comics covers. While only eight in the deck, each is a fine example of the lack of restraint publishers showed during the period. (original link via BoingBoing)
Of particular interest is the cover for Mister Mystery #12 and it's strong use of the 'injury-to-eye-motif', which was a big story element in that era.
I can't help but wonder if that particular theme/meme helped sell more comics, similar to former DC Editor Julius Schwartz's maxim that any comic will sell better with a gorilla on its cover.

(image courtesy Greg Hyland over at LethargicLad.com)
Also —- if you're into the whole Wertham argument, there looks to be the start of a debate between Ten-cent Plague author David Hajdu and pop culturalist and comics/graphic novel theoretician Douglas Wolk.