NOBLE FAILURE #7 (July 2007) — Super Samurai Special!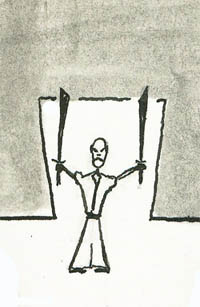 Revenge Of The One-Arm Samurai
(click here to download PDF) (1.8MB)
The ink on this comic makes all the difference. The story was good in pencils, but with the heavy blacks and strategic use of wash, it's SO much better. I'm sure you'll agree.
This month's effort is a comeback after my breakdown on #6 is already one of my favorites, second only to The Pancake Tree.
Along with narrative improvements, you'll notice the change in presentation: no more clicky-open-X-to-closey for viewing each page. Now the comic is all there in one easy-to-ready file.
Why the change, you ask? Blame it on my dead grandmother. The PDF format worked so well for that story it seemed smart to try it on a longer one.
Yeah, yeah, there are still a few technical issues to work out. Even so, this may become the standard presentation format for any future comics, including the five 24-Hour ones left for 2007. Let me know what you think via the comments section.
Enjoy!