Noble Failure #6 (June 2007)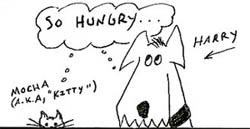 Apologies for not posting last Thursday night/Friday morning; I was deep in the throes of this month's 24-Hour Comic. And it wasn't going well.
This one feels less like a "Noble Failure" than a Miserable one, though I did learn more about my process and what it might take to make a successful one next time. Things such as:
Don't make a day-start after 7AM or an evening-start before 9PM
Do a couple of pages of art first, then move to a script session
Don't script for more than 90 minutes
Do draw and ink the longest story first
Don't waste time calling ComEd about the power being out
Do a good job of lettering sound effects
Don't rush the art; you'll regret it
Do schedule more than two weeks between 24-Hour Comics
As you're bound to notice, the Mr. Punch story isn't finished. The four pages presented aren't even inked. Fret not: the world will eventually see how it ends. I'll be using it to help me learn the secret kung-fu of vector graphic illustration.
"There's a difference between knowing the clipping path, and walking the clipping path."
*cough*
So, yeah. Stay tuned for that.
Enjoy the comic.