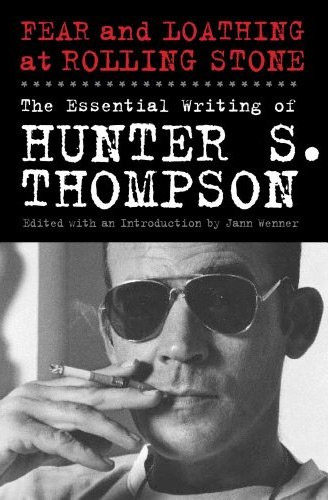 Assurances were made that a review would be posted on the 24th. It's still Monday for a few more hours and, after a day of brawling with myself over issues peripheral — but bearing no direct relation — to the book's contents, I'm back to take another swing.
For the uninitiated or casually familiar, F&L@RS is a fine introduction to The Good Doctor's non-Vegas Gonzo pieces and a good place to find some of his most incandescent writing. And while the book doesn't illustrate the evolution of Hunter's style and craft, these repackaged Rolling Stone articles showcase the results of both the writer and his editors, past and present, in creating finished pieces. It also traces the astonishing climb, stall, and flame-0ut of one of America's most prolific, insightful, and unstoppable humorists.
Much of the material for this book appeared in the same or similar forms in Hunter's other collected works, most notably THE GREAT SHARK HUNT. In fact, of the 40 or so articles and letters listed on the contents page, nine were in SHARK HUNT and fourteen in CAMPAIGN TRAIL '72.
(N.B. — I say, "same or similar forms," because, according to Paul Scanlon's warm and excellent intro, he's re-groomed some of the articles for the new book. While editorial nit-pickers and HST fetishists will no doubt have their jollies with it, I have no time for a full-on stare-and-compare. One day, maybe — but not today.)
Where SHARK HUNT takes a somewhat shotgun approach to the groupings, F&L@RS has the advantage of presenting the pieces chronologically. Following the timeline lets readers see how Hunter's writing for Rolling Stone fed the success and growth of the magazine, and was responsible for the growth and spread of the Hunterfigure. Readers get to witness the Legend being being printed along with the Truth and bound together, for good and ill, in the public consciousness.
For the hardcore fan or HST scholar, F&L@RS ultimately holds no surprises, though there are two pieces worth particular mention. First, is the inclusion of, "Polo Is My Life" — one of the truly essential pieces of Hunter's writing that has been MIA for too long. Second is the exclusion of "Dance of the Doomed,"  Hunter's meditation and final word on the war in Vietnam. The real reason why this was left out is anybody's guess.