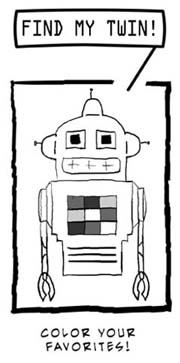 Three more pages added to the FREE! DOWNLOADABLE! PRINTABLE! coloring book.
(Having some technical difficulty with the thumbnail function. Until that's corrected, click the file names to view, right-click to 'SAVE IMAGE AS . . .' and print from there.)
This is shaping-up quite nicely.
As with the rest of it, these new pages are protected through Creative Commons. (See the bottom of his post for details)
Looking for the whole coloring book? Click Here To Download. (1.507MB)
Suggestions on drawings or activity pages? Mazes, match-ups, or word finds? Post them below or send 'em via email at the address noted on the ABOUT page.
ENJOY!

Grace's Coloring Book by Bradley Weber is licensed under a Creative Commons Attribution-Noncommercial-Share Alike 3.0 United States License.
Based on a work at www.juniormadscientist.com.