[I'm warning you right now that this one has some language in it — language that, if you're over the age of seven, you've probably said at least once today. And if you haven't said it, then you've thought it or heard your parents say it, probably more than once today. But when they're in print, words are suddenly different. Don't ask me why. I'm a writer and I still don't understand the physics of words (supposedly) having more meaning when they're on the page. Anyway, if you're under the age of 18 or easily offended, you'll likely want to skip this one. Just sayin'. bjw]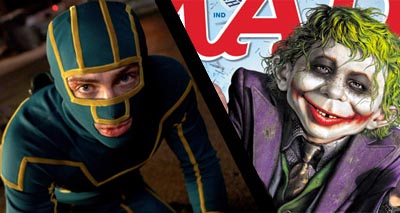 There's one in every crowd. The guy who hands you back the fast food garbage you dumped in the Home Depot parking lot. The guy who yells in the theater for you to put away your goddamned cell phone and watch the movie. The guy who whips a rock at your car because you just blew the stop sign while he was walking his kid across the street.
Like I said: There's one in every crowd.
Usually, it's me.
*
It'd been a long Sunday: the only worthwhile things being time spent with the wife and kid, pricing bookcases for the new office, and some barbeque and strange conversation at a friend's house. After that, it was 8:30pm and I was at loose ends. The local Googolplex was showing KICK-ASS at 8:45. I snagged a twenty and headed out the door.
My cell phone and watch were left home on purpose, so I had no idea what time it was when the woman tried to sneak in with the little boy. This was right around the part where Kick-Ass first meets up with the Red Mist in the alley. The kid sits one over from me; she's on his left. The kid is so small he's practically swallowed by the seat.
I saw them come in, fresh from either DIARY OF A WIMPY KID or HOW TO TRAIN YOUR DRAGON. The kid was oblivious. She was furtive, clearly new at trying to get away with something and failing hard. It makes no difference who you are; we've all done it, all failed to be invisible. Whether it's your first crack at theater-hopping, shoplifting porn or buying that first box of condoms, we all act the same way and it's easy to spot.
As God as my witness, I wanted to let it go.
Not that this woman needed to be Tased for sneaking into a movie. Hell, no. Except for under–paid theater managers and over–paid studio executives, nobody gives a shit about that kind of thing because whether anybody is in the theater or not, the movie still runs. So, as long as she stayed off her phone and the kid kept his yap shut, I would count myself among the careless nobodies.
But she brought this little, little kid to this particular movie. This stupid, stupid woman, whose knowledge of the film was likely gleaned from a fast glance at the movie poster, and this kid, no doubt tripping on Mountain Dew and Twizzler Bites, who is geeked to be up past his bedtime on a school night and sneaking into a superhero movie. And who could blame him?
The thing is, I know what's coming. I'd never read the comics, but had seen enough reviews to know how bad it would be. That I paid ten bucks to see this piece of crap is my problem, my choice. But this kid, he doesn't have a choice, doesn't know he has a choice. Even if he did know, he'd still vote to stay. Because it's a superhero movie.
And I think about the people I know –– personally know –– who let their five- and six- and seven-year-olds watch SPIDER–MAN 3, THE INCREDIBLE HULK, and THE DARK KNIGHT, over and over and over. Especially THE DARK KNIGHT. Because to most parents, the line between THE INCREDIBLES and THE DARK KNIGHT doesn't exist. Because they are superhero movies.
One of these days, I'm going hit my brakes while the wrong guy tailgates me. One of these days, I'll tell the wrong woman "you're welcome" when she fails to smile, make friendly eye contact, say "thank you" while I hold the door open for her. One of these days, I'm going to tell the wrong guy that if he and his buddies want to talk they should go to Denny's –– otherwise they need to shut up and watch the movie. One of these days, I'm going to get slapped around, have a cigarette put out in my face, get stabbed. Get shot.
One of these days, I'm going to mind my own business.
I lean over the empty seat. I tell the lady, "You know this rated R, right?"
"Oh. It is?" she asks, and means it.
"Yeah."
I turn to the kid. "Hey, pal. How old are you?"
He holds up four fingers, says he's three. His eyes never leave the screen.
"He's four," she smiles.
I say, "Listen, lady. They already showed a little girl get shot in the chest by her father and it's only going to get worse. You need to get him the hell out of here. Like, now."
She says, "Oh," and starts tugging a jacket on her mesmerized kid. "OK. Thanks."
"You know the best way to thank me? Read the reviews before you take your kid to the movies. Because shit like this will fuck him up fast. Now beat it before they start having sex and chopping off heads."
She hustled that kid out with a lot less furtive than she came in with.
One of these days, I'm going to Hell.
–– Chicago, May 2010