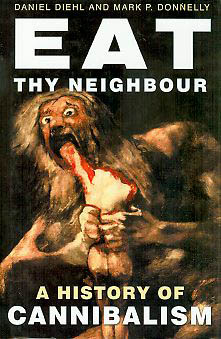 The cover of this book is from one of Francisco Goya's Black Paintings which he painted on the interior walls of his house between 1819 and 1823. "Saturn Devouring His Son" is based on the Greek myth of the King of the Titans who ate his children from the fear that they would rise up and kill him. Which they eventually did anyway, making room for the Olympians. According to the Wikipedia entry, Peter Paul Reubens depicted the same story in the 1600s. Reubens's painting is more classical, less cartoony, more horrifying.
It is the aspect of horror which is missing from Eat Thy Neighbor: A History Of Cannibalism. Not to say the book isn't thick with sick and disturbing scenes. But the authors seem to delight in retelling these stories, accounting for every bizzaro detail, especially with the more recent and better documented cases.
Diehl and Donnelly start out all right: Part One (Cultural Cannibalism) is an even, intelligent, though somewhat light overview of one of the world's last great taboos. But the deeper they slide into Part Two (Case Studies Of Taboo Breakers), the authors wind-up treating the subject matter like a couple of fifth-graders, recounting every gory detail and reveling it them. And with fifteen "case studies", the gore and brutality goes on ad nauseum.
With a topic like this, you're an idiot not to expect gore and brutality; they're just part of the deal. But in this book, gore and brutality is all there is. It's clear the authors editors lashed together newspaper accounts and some of what they saw on the History Channel, but bypassed weightier material such as court documents or psychology texts. At no point in the "case studies" do the authors pause for some much-needed analysis or discussion.
By the time they get around to their lame closing assessment of "The Future Of Cannibalism," it's too late for them to save their book from being considered anything but tasteless.
Steer clear of this one.