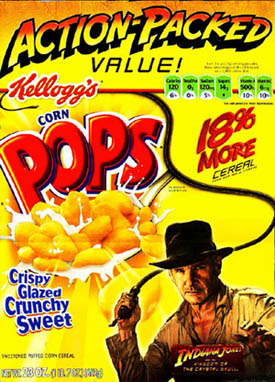 Anybody who's talked to me for more than 45 seconds will tell you that I can be a pretty harsh critic. This is especially true of comic books and movies. Bring up either topic and settle in for some serious un-varnished truthifying about the sorry state of mainstream storytelling in both industries.
For years, these two have been traveling hand-in-hand down the deeply rutted road to Stupidsville, riding first-class atop bales of crisp cash, picked fresh and green from consumer pockets.
The stories these clowns have been feeding the public are tantamount to narrative fast food — a steady diet high in saturated schmaltz and saccharine full of empty promises, wasted time, and perfect for replacing mental muscle with synaptic flab.

The last mainstream comic I bought was not for me but for my kid: DC's Tiny Titans by Art Balthazar and Franco (Awwww, yeah!).
And I can't remember a recent film that was worth sneaking into, let alone the price of admission.
(I was forced to refresh my memory over at Dark Horizons' list of release dates for 2007 and 2008. From everything in theaters over the last sixteen months, there were only eight that were worth my time and money. Eight!)
Now, today, we are entering 2008's onslaught of cinematic mummery. Just like Christmas, the summer movie season arrives earlier every year. It's started already and it's not pretty.
Exhibit 1: the lunatic, non-sequitur appearance of Indiana Jones on a box of Kellogg's Corn Pops. (????!?!!?) The pictures on the back are even worse. Shia LaBeouf looks like one of those wild-haired troll and Cate Blanchette looks like Moe Howard's sister. Harrison Ford looks like he needs a nap.
The simple fact that Lucasfilms and Paramount Pictures, the masterminds behind the Indiana Jones franchise, are pimping-out Indy this early in the year does little to instill confidence that IJ4 is going to be any good. Combine that with all the sound-and-fury-signifying-nothing propagated by the studios' army of e-shills, and you've got a recipe for suckiness.
(To be fair, the Iron Man movie has it's share of on-line fluffers, though I have yet to see Ol' Shell Head shaking his crimson can on a box of cereal.)
For many years, I've been working on a theorem to describe, and possibly predict, how bad a movie is going to be:
The quality of a film is inversely proportional to the amount of advance advertising
or
Q = k/$
(It's been a while since I've had to do any serious math, so the above representation might be off. Anybody that can help on this, please jump right in.)
Important to note is the inclusion of shameless and nonsensical cross-merchandising, though I suppose the studios are being paid for having Indy's face plastered on boxes of cereal instead of them paying for the space.
To date, all of my evidence remains observational (i.e., the crap seen lining store shelves, the movies seen in theaters). I have yet to compile any hard numbers to back this up, so the formula remains unproven. But, a data little mining at IMDB and RottenTomatoes, should provide plenty of numbers to play with.
Anyone with suggestions for films to test the formula on, please reply in comments. Good movies, bad movies — whatever. They should be fairly recent, say within the last twelve years or so.
Stay tuned for results and thanks.