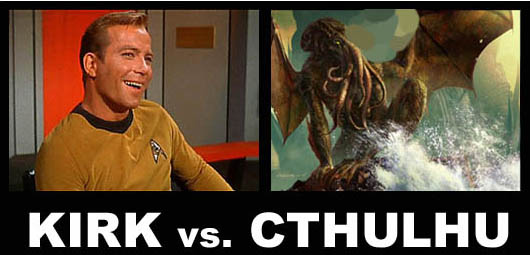 I've just finished reading Tales Of H.P. Lovecraft, a collection of the master's shorter works selected and introduced by Joyce Carol Oates. (With some nice cover art by Mike Mignola, creator of the steampunk-tastic, Amazing Screw-On Head!)
Tales is a nice intro to Lovecraft's mad and lonely world. The ten stories showcase what I imagine are some of the man's best (and most accessible?) efforts, but also provide a Whitman's Sampler of what has become known as The Cthulhu Mythos.
The central tenant of Lovecraft's 'pseudomythology' is that Earth has been repeatedly invaded and populated over the eons by a series of alien races. In fact, "At The Mountains Of Madness," hints that everything living here — plants, animals, humans — evolved from some ancient Elder Things' experiments that were left to run wild.
So, if they (the Old Ones/Elder Things, Outer Gods, etc., etc.), are of outer space, and for as far and wide as the Enterprise ranged over the years, you'd think sometime, somewhere, Kirk & Co. would have come across these star-spawn, or at the very least, the degenerate remains of their home worlds.
I went looking for Star Trek/Cthulhu Mythos stories — authorized or fan fic — but my Interwebbular searches availed naught.
Has anyone written or found anything in this vein? If so, I humbly request your links. Please add them to the Comments section.
Many thanks.
( Kirk image courtesy of these nice people, Cthulhu image courtesy of this guy.)