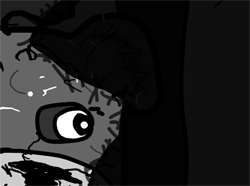 NF#9: "Big Trouble, Part V"
(Click to download)(867KB)
The final installment of the Mr. Sprinkles saga.
The art was finished back on October 24 but it took this long to get it posted.
Why?
Oh, doing the October AND November editions of my 24-Hour Comics, as well as a few other messes, trickbags, and imbroglios — all of which turned out fine. I've got a new job and a new car, neither of which I was looking for nor wanted at the time, though things are all working out for the better.
So, read and enjoy these last few pages of Noble Failure #9. Doing the story this way was completely worth it to me. I hope you'll find the conclusion worth your wait.