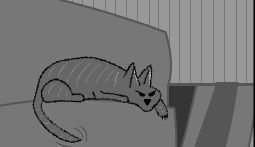 NF#9: "Big Trouble, Part IV"
(click to download) (948KB)
Mr. Sprinkles finds out what happened to the cat. But what happens to Mr. Sprinkles?
This story is definitely trouble for the fuzzy detective. Big Trouble.
Check back in a week (more or less) for the ending.
And it ain't a happy one, either.