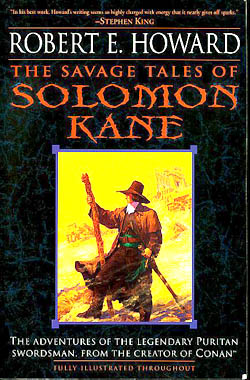 Last night before bed and this morning at breakfast, I was reading the 2004 Del Rey edition of The Savage Tales Of Solomon Kane, wondering why someone hasn't put the sword-wielding Puritan on the big screen.
(The title character of Steven Sommers' 2004 crapfest Van Helsing seemed to have been modeled after Kane (Slouch hat? Check. Sword? Check. Religious background? Check. Dark, flashing eyes and surly attitude? Double-check.), but it was a very poor job and not worthy of the comparison.)
Then I find this tidbit at Dark Horizons:
James Purefoy (HBO's "Rome") has been cast as the titular puritan swordsman in Davis Films "Solomon Kane," based on the stories of Robert E. Howard ("Conan the Barbarian").

Kane is a 16th century soldier who learns that his brutal and cruel actions have damned him but is determined to redeem himself by living peaceably.

But he finds himself dragged out of retirement for a fight against evil. The first in a planned series of three movies, Michael J. Bassett ("Deathwatch") will direct from his own script.

Shooting begins later this year.
Well, how about that. Coincidence or conspiracy? You decide.
As for the Solomon Kane movie, I'll probably catch it. He's a good character with lots of cinematic potential. I'm surprised he hasn't been made into an HBO or Showtime series.
Here's hoping the director can do Kane justice. I can't say I've seen any of Bassett's work. His 2002 film Deathwatch has just been moved to the top of my Netflix queue.