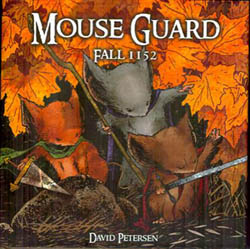 If you ever land a book contract and need a good literary publicist, call MediaMasters. They're the fine folks who, among other high-profile projects, orchestrated the wildly successful launch of First Second books.
I believe they're largely responsible for helping Gene Yang's American Born Chinese make it to the 2006 National Book Award Finals, as well as why there are more than a few First Second titles on the impressive list of 2007's Eisner Award Nominees.
Granted, the books themselves had a lot to do with it. But never underestimate a publicist's role in putting those deserving books into the hands of appreciative readers — and the people on award committees.
Anyway, I've done some work for and with MediaMasters. They know what I do and what I like, so sent me copy of David Peterson's Mouse Guard: Fall, 1152.

Plot summary: The Mouse Guard is an elite corps of sword-wielding mice are pathfinders, traveler protection border patrol, and military government across the Mouse territory. While searching for a missing grain peddler, three soldiers — Liem, Kenzie, and Saxon — uncover a sinister plot to infiltrate the capitol and overthrow the Guard.
This is a beautifully drawn book with a solid, straight-forward, easy to follow story. Mouse Guard can be handed to anybody aged five and up and they'll get it, or they should. Words and action nicely reflect each other, clarifying meaning and reinforcing story elements. The art, language, characters, and themes make it a true all-ages book fit for any home or library shelf.

when good seafood goes bad
(click and zoom for some nice detail)
Fall, 1152 collects the first six issues of the monthly 24-page comic that came out in 2006. Though there is plenty of closure to the story at hand, Mouse Guard has the unmistakable feel of a TV pilot or the first book in a long and ongoing saga, which is plenty good for readers. Petersen admits he's been thinking about these characters since the mid-1990's; hopefully his characters, their extended story lines, and his beautifully rendered art don't become compromised by the demands of contracted publication times.
Individual issues of Mouse Guard, Winter 1152 are currently available at your local comic shop. The last I read, a hard cover edition was due around the beginning of 2008. That date may have changed, so keep your eyes peeled.
NOTE: In June, Mouse Guard got added to NPR's recommended list of "here for a printable version of their list.
I