A couple of weeks ago the wife, then kid, and I went to Chicago's very own John G. Shedd Aquarium. If you haven't been there in a while, you owe yourself a trip. If you're an out-of-town reader and you come to the Windy City, an afternoon at the Shedd needs to be on your itinerary.
While there, if you find it necessary to heed nature's call, you'll find these in the bathrooms: The Digital Washroom Advertising System by Impressionaire.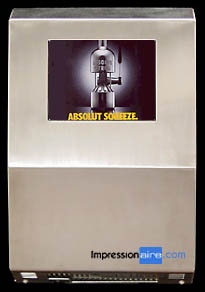 "ImpressionAire places digitally-equipped warm air hand dryers in high profile, high traffic public washrooms. Your ad message is displayed every 30 seconds around the clock on a high-tech flat panel computer screen.

The viewer looks at your ad while drying hands in a venue that is free of traditional advertising.

Target male or female washrooms, change your message overnight and reinforce your total media campaign with this unique new advertising venue."
I have to admit, it's a clever and well-executed idea. But, while curiosity makes me wonder about advertising costs and administration, I can't help but be annoyed that I'm forced to endure commercials in the bathroom. Is there no escape?
Has anybody run into these hand dryers elsewhere — in the US or the world?