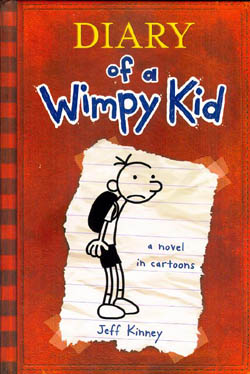 I don't have a bad thing to say about Jeff Kinney's Diary Of A Wimpy Kid, which is a surprise since I can usually find something bad to say about most anything.
Based on Jeff Kinney's long-running Web book at Funbrain.com, the edition published by Harry N. Abrams is the first of three books which collect a somewhat streamlined version of Greg's diary entries.
Rather than give my own rambling plot summary, here's one cobbled together from the publisher's website:
It's a new school year, and Greg Heffley finds himself thrust into middle school, where undersized weaklings share the hallways with kids who are taller, meaner, and already shaving. In book one of this debut series, Greg is happy to have Rowley, his sidekick, along for the ride. But when Rowley's star starts to rise, Greg tries to use his best friend's newfound popularity to his own advantage, kicking off a chain of events that will test their friendship in hilarious fashion. The hazards of growing up before you're ready are uniquely revealed through words and drawings as Greg records them in his diary.
So what's to like?
The voice and logic are all authentic 5th grader. The situations always feel real. They're usually ridiculous and played for absurdity, but all the more real for that. Nothing Greg, his family, or classmates say or do feels remotely forced or contrived. There is not a false note in this book in event, dialog, or action.
The book design is well done. The cover looks like it's bound in genuine pleatherette; the interior pages are ruled like a writing journal; the typefaces were selected (or created) to look like the entries were handwritten.
(click on the thumbnail for detail)
Kinney's deceptively simple illustrations add significantly to the story. In many cases, the understated humor in the text is punctuated/amplified by what's going on in the pictures.
That kind of alchemy tends to be found only in the finest picture books or comics. Diary Of A Wimpy Kid falls into neither category. Fortunately, the publisher recognized this and marketed the book accordingly.
Abrams is smart: they're not presenting Kinney's book to be anything it isn't. Calling it 'A Novel In Cartoons' is dead-on accurate. This isn't a 'graphic novel', though readers of Manga, GNs, and other graphic fiction will gravitate to it.
And the fact that Diary Of A Wimpy Kid will, in all likelyhood, wind up shelved along side the other graphic fiction at your local public library should get the book more of the attention and traffic it deserves.
There's plenty else to discuss about this book, but this review has run long enough. Therefore, I will close by iterating about Diary Of A Wimpy Kid "The Three Best Things Anybody Can Ever Say About Any Book"*:
I would pay full cover price, including applicable sales taxes
I would give this book as a gift
It was worthy of the time I spent reading it
Buy the book and make this Jeff Kinney guy some money! YOU GO NOW!
[* "The Three Best Things Anybody Can Ever Say About Any Book" is TM/C/R/SM 2007 by Bradley James Weber. The broadcast, re-broadcast, use or invocation of the listed listing device without prior written authority from, and excessive payment to, Bradley James Weber is strictly prohibited.]