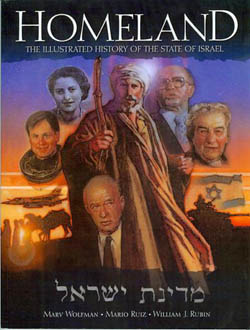 First, a few disclosures:
1) I met Bill Rubin on my way to Comic Con 2005
2) Bill has kept me up-to-date with the progress of the book
3) He bought me lunch and
4) was kind enough to find a place for my name on HOMELAND's Acknowledgements page
I lay all this out so there is no misunderstanding, no whiff of malfeasance or calls for my impeachment. Especially on my first review for this site.
Another disclosure: I've had a tough time writing this review.
I like the book. It's well executed; it's ambitious; it reads well; I enjoyed it and learned a lot. Still, I have pages of false starts. It wasn't until today that I realized the problem: my expectations were in the way.
Despite having followed the project for nearly two years, having seen advance artwork and heard Bill's stories about the book, I was still expecting a non-fiction graphic novel — a character-driven, historical narrative told with boxes and balloons.
Boy, was I wrong.
HOMELAND is exactly what it says it is: "the illustrated history of the state of Israel." And while the book employs numerous aspects of sequential art storytelling, it manages to transcend them in some way.

I haven't seen or read anything like HOMELAND. (That doesn't mean there aren't similar approaches out there. If you know of any, please post in comments.) That makes me wonder if these guys aren't exploring new territory here.

(click for detail)
For example: In HOMELAND, there is no main character. The story presents no one person for readers to identify or empathize with, which makes sense. HOMELAND isn't about the Jewish people as individuals; it's about the advent of the state of Israel.
This is reinforced by the fact that the professor, her students, the course title, and the university are never named. They are the reason for telling the story, not the story itself.
The only development we see is Israel growing from a loose group of displaced people worshiping the same god to an established and prosperous country fighting to protect its people and land.
HOMELAND could have easily become A CARTOON HISTORY OF ISRAEL (which is NOT a slam on Mr. Gonick or any of is quality books). However, it's clear that Rubin, Wolfman, Ruiz, and all the people at Nachshon Press, wanted a serious and thoughtful approach to a subject about which most people know little, especially in the U.S. The fact that these guys ran their material past a variety of scholars attests to their interest in accuracy and their desire to create a book worthy of its subject.
About the art: It's Mario Ruiz. You've seen his work. You know it. You love it.
About the writing: Marv Wolfman has the task of chronicling four millennia of Jewish history while leaving room for a few illustrations. Mr. Wolfman does an admirable job with what can be difficult material. His reportage is well done.
For as good as it is, HOMELAND is not without minor flaws, the primary one being a mid-point shift in focus and presentation.
In the pages following Israel's declared independence in 1948 and the state's admittance to the U.N., Ruiz's rich art gradually gives way to photos, his painting reserved for portraits of key Israeli leaders. At the same time, Wolfman's writing becomes packed with facts until it starts to read like a PowerPoint® presentation.
(click for detail)
This appears to stem from the creators' best intentions: to be as detailed and accurate as possible. But how to handle all the information about Israel's first 60 years when the previous 3440 years of history took more than half the book?
It's tough, but they manage.
Overall and without question, HOMELAND is a well-presented and effective history of the state of Israel. While not as character-driven or comics-based as most other graphic non-fiction, Homeland is no less successful and is, in many ways, a more ambitious project.
It's a good book. Once you get past your comic book expectations, it's even better.
Homeland: The Illustrated History Of The State Of Israel
Writer: Marv Wolfman
Illustrator and Graphic Designer: Mario Ruiz
Executive Editor/Concept: William J. Rubin
Cover art: Drew Struzan
Published in 2007 by Nachshon Press, www.nachshonpress.com
128 pages
To find out more about the Community Foundation For Jewish Education, visit www.cfje.org